Bayreuth Food and Language Talks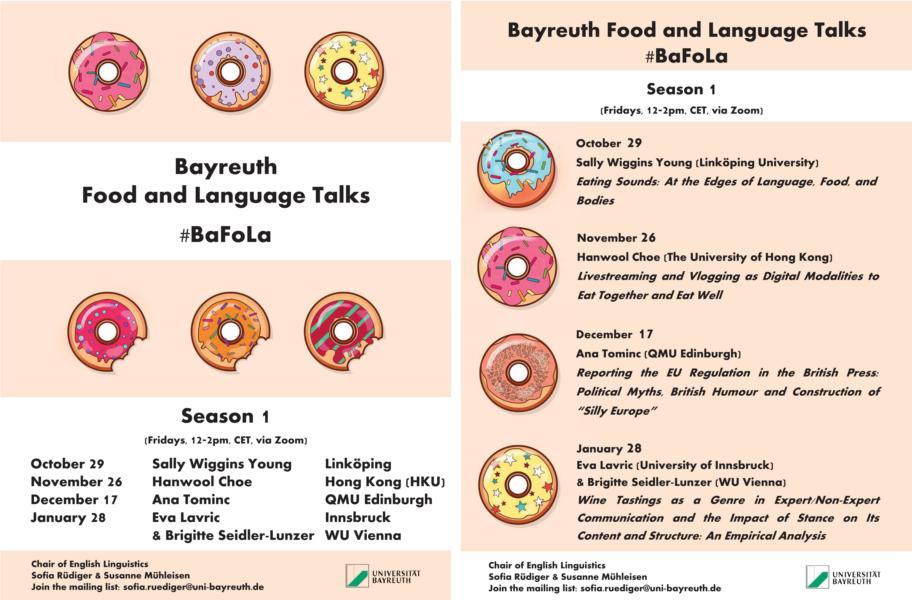 The Bayreuth Food and Language lecture series (BaFoLa) showcases linguistic research on food, regardless of subject languages, and takes place every last Friday of the month, 12:15-13:45 pm (CET).
BaFoLa's inaugural first round of presentations is scheduled for winter 2021/2022 and will be conducted online via Zoom. Please send an email to sofia.ruediger@uni-bayreuth.de to request the Zoom link.
Program (Winter 2021/2022)
---
October 29
Sally Wiggins Young (Linköping University) - Eating Sounds: At the Edges of Language, Food, and Bodies
---
November 26
Hanwool Choe (University of Hong Kong) - Livestreaming and Vlogging as Digital Modalities to Eat Together and Eat Well
---
December 17
Ana Tominc (Queen Margaret University Edinburgh) - Reporting the EU Regulation in the British Press: Political Myths, British Humour and Construction of "Silly Europe"
---
January 28
Eva Lavric (University of Innsbruck) & Brigitte Seidler-Lunzer (Wirtschaftsuniversität Wien) - Wine Tastings as a Genre in Expert/Non-Expert Communication and the Impact of Stance on Its Content and Structure: An Empirical Analysis
---