Bayreuth Food and Language Talks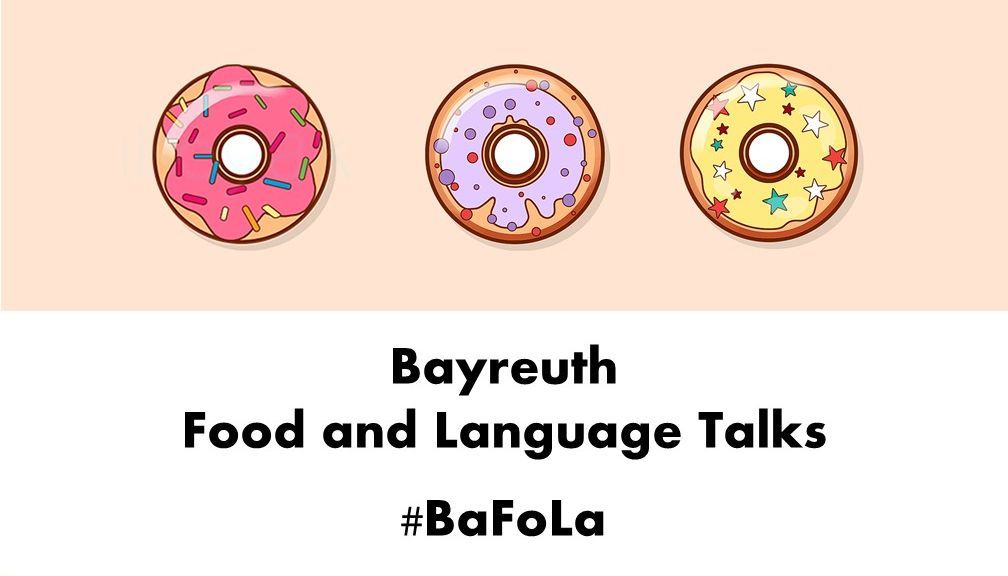 The Bayreuth Food and Language lecture series (BaFoLa) showcases linguistic research on food, regardless of subject languages, and takes place every last Friday of the month, 12:15-13:45 pm (CET) [see schedule below for exceptions].
BaFoLa's inaugural round of presentations took place in winter 2021/2022. We are now proud to host the third season of BaFoLa in winter 2022/2023 (see schedule below). Please send an email to sofia.ruediger@uni-bayreuth.de to request the Zoom link and/or join the mailing list.
Program (Winter 2022/2023)
---
October 28 (CEST)
Göran Eriksson (Örebro University) - Selling "Good" and Healthy Food with Science: A Multimodal Approach to Marketing of Food and Beverages
---
November 25 (CET)
Marie-Louise Brunner & Stefan Diemer (Umwelt-Campus Birkenfeld | Hochschule Trier) - "{closes eyes and chews} It's not ... a cool taste" - Humor and Interactive Stance in Food Talk
---
January 27 (14:15-15:45, CET!)
Polly Szatrowski (University of Minnesota) - Negotiating Inclusion and Exclusion in Japanese Food Assessments with Language and the Body

---
Previous Talks
Season 2 (Summer 2022)
Alla Tovares (Howard University) - Food and Poetics: Creating Multimodal Involvement and Social Meanings on TikTok (April 29, 2022)
Ana Tominc (QMU Edinburgh) - Bananas – Bendy and Otherwise: Interrogating the Relationship Between Britain and the EU Through "Banana" Corpus Analysis (May 27, 2022)
Keri Matwick (NTU Singapore) & Kelsi Matwick (University of Florida) - "Trailblazers": Singapore's Discourse Around Lab-Grown Meats (June 24, 2022)
Tina Bartelmeß (University of Bayreuth) - Parental Conversations About Sugar in Online Forums: More Than Food Talks (July 29, 2022)
Season 1 (Winter 2021/2022)
Sally Wiggins Young (Linköping University) - Eating Sounds: At the Edges of Language, Food, and Bodies (October 29, 2021)
Hanwool Choe (University of Hong Kong) - Livestreaming and Vlogging as Digital Modalities to Eat Together and Eat Well (November 26, 2021)
Eva Lavric (University of Innsbruck) & Brigitte Seidler-Lunzer (Wirtschaftsuniversität Wien) - Wine Tastings as a Genre in Expert/Non-Expert Communication and the Impact of Stance on Its Content and Structure: An Empirical Analysis (January 28, 2022)