Bayreuth Food and Language Talks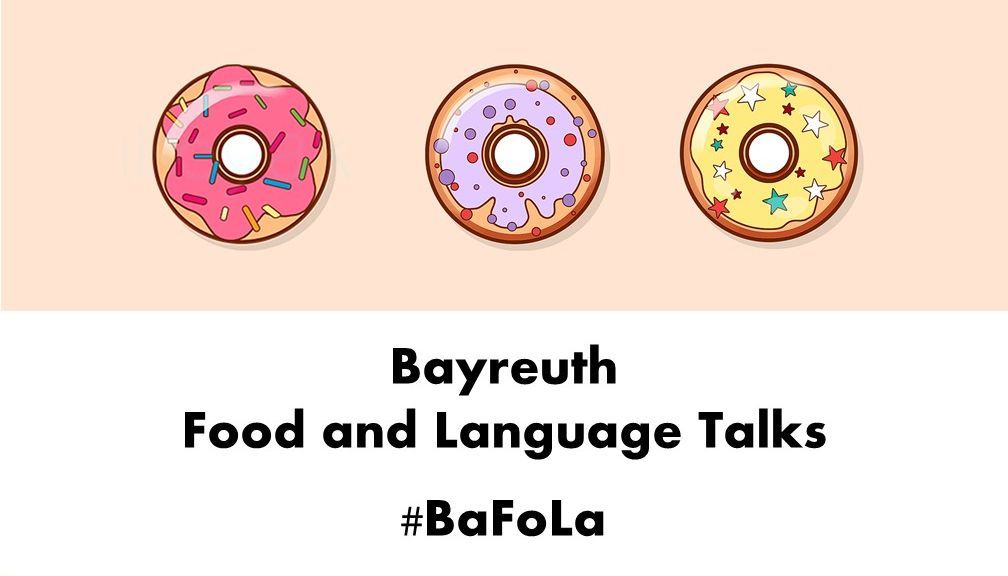 The Bayreuth Food and Language lecture series (BaFoLa) showcases linguistic research on food, regardless of subject languages. Season 4 of BaFoLa tales place every last (or second to last) Wednesday of the month, 18:15-19:45 pm (CEST).
BaFoLa's inaugural round of presentations took place in winter 2021/2022. We are now proud to host the fourth season of BaFoLa in summer 2023 (see schedule below). Please send an email to sofia.ruediger@uni-bayreuth.de to request the Zoom link and/or join the mailing list.
Program (Summer 2023)
---
April 26
Marcelyn Oostendorp (Stellenbosch University)
Politics of the Belly: Food, Memory and Discursive Identity Construction in South African Food-and-Memory Cookbooks
---
May 24
Jillian R. Cavanaugh (City University of New York)
Food Chronotopes: Heritage Food, Safe Food, and the Value of Family
---
June 28
Cynthia Gordon (Georgetown University)
Discursively Constructing Fusion Food as "Authentic" in Food Infotainment Videos
---
Previous Talks
Season 3 (Winter 2022/2023)
Göran Eriksson (Örebro University) - Selling "Good" and Healthy Food with Science: A Multimodal Approach to Marketing of Food and Beverages (October 28, 2022)
Marie-Louise Brunner & Stefan Diemer (Umwelt-Campus Birkenfeld | Hochschule Trier) - "{closes eyes and chews} It's not ... a cool taste" - Humor and Interactive Stance in Food Talk (November 25, 2022)
Polly Szatrowski (University of Minnesota) - Negotiating Inclusion and Exclusion in Japanese Food Assessments with Language and the Body (January 27, 2023)
Season 2 (Summer 2022)
Alla Tovares (Howard University) - Food and Poetics: Creating Multimodal Involvement and Social Meanings on TikTok (April 29, 2022)
Ana Tominc (QMU Edinburgh) - Bananas – Bendy and Otherwise: Interrogating the Relationship Between Britain and the EU Through "Banana" Corpus Analysis (May 27, 2022)
Keri Matwick (NTU Singapore) & Kelsi Matwick (University of Florida) - "Trailblazers": Singapore's Discourse Around Lab-Grown Meats (June 24, 2022)
Tina Bartelmeß (University of Bayreuth) - Parental Conversations About Sugar in Online Forums: More Than Food Talks (July 29, 2022)
Season 1 (Winter 2021/2022)
Sally Wiggins Young (Linköping University) - Eating Sounds: At the Edges of Language, Food, and Bodies (October 29, 2021)
Hanwool Choe (University of Hong Kong) - Livestreaming and Vlogging as Digital Modalities to Eat Together and Eat Well (November 26, 2021)
Eva Lavric (University of Innsbruck) & Brigitte Seidler-Lunzer (Wirtschaftsuniversität Wien) - Wine Tastings as a Genre in Expert/Non-Expert Communication and the Impact of Stance on Its Content and Structure: An Empirical Analysis (January 28, 2022)